We break down the compensation packages of SDR Managers in 2022.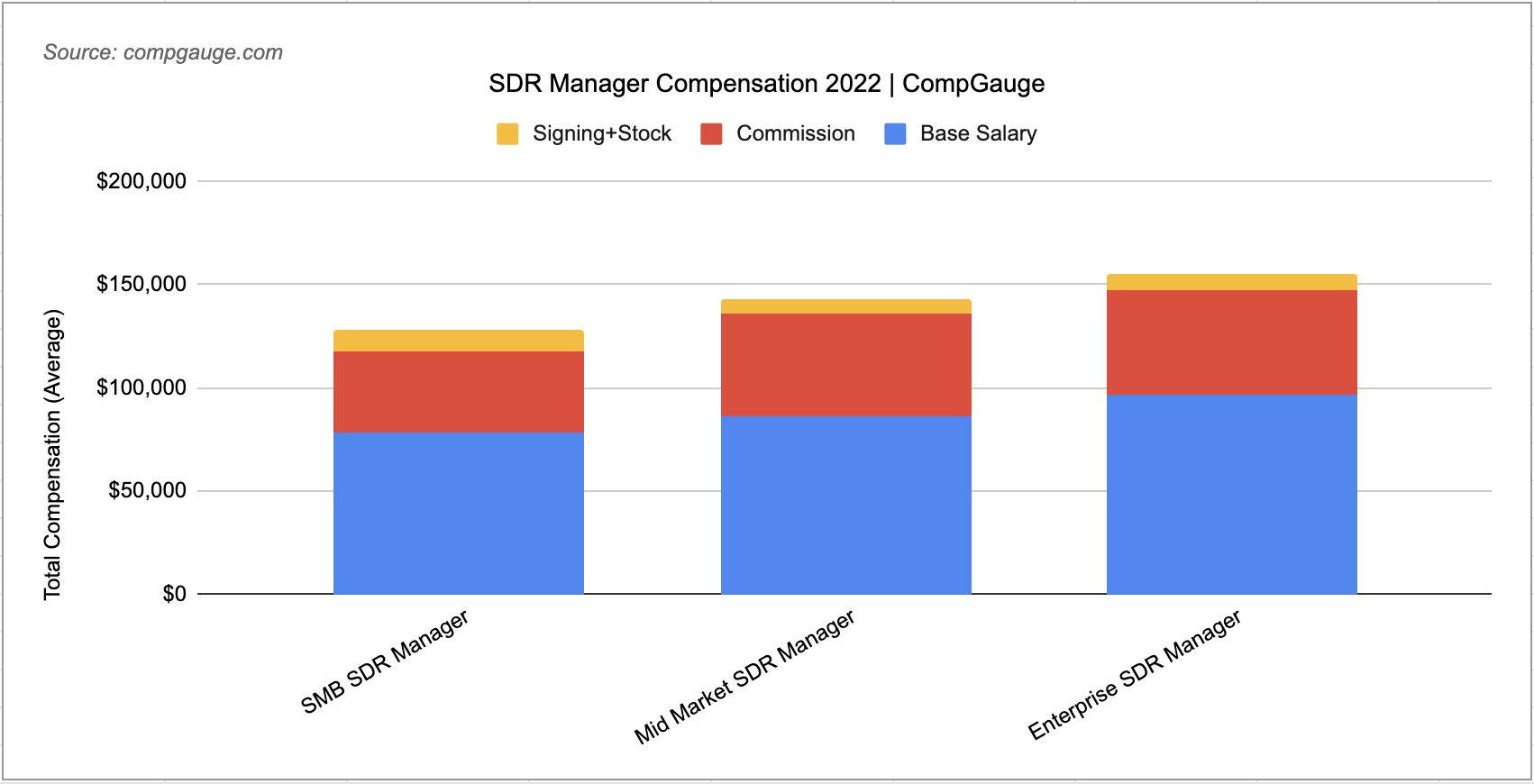 It's no secret that being a sales development representative (SDR) is one of the most lucrative entry level jobs.
However, do their managers, widely referred to as Sales Development Managers (SDR Managers), also benefit from similar lucrative compensation packages?
Bravado investigated our data set of thousands of sales compensation data points to determine how well SDR Managers are really compensated.
What is an SDR Manager?
An SDR Manager directly manages a team of SDR's. SDR's are responsible for prospecting into a sales territory and setting meetings with prospects for the account executives that they support. Ideally, these meetings that they set for the account executives will be considered as qualified meetings, also known within the sales industry as an "opportunity".
What are the SDR Manager job responsibilities?
SDR Managers will coach their team of SDR's on prospecting best practices so that the SDR's can set more meetings and thus increase the potential for more opportunities. They'll also help recruit new SDR's to their team and onboard them thereafter.
An SDR Manager's quota is typically the sum of their SDRs' quotas. For example, SDR's are typically tasked with setting at least 3 meetings per week, or 12 per month. They'll typically need anywhere from 4-6 opportunities per month, or about 12-18 per quarter. Thus, if an SDR Manager oversees 8 reps, they'll be responsible for 24 meetings per week, or 96 meetings per month, and anywhere from 96-144 opportunities per quarter.
SDR's might also have a pipeline dollar amount quota (and the SDR Manager will thus have one too) – this figure will vary widely by industry, account size, and company.
Common SDR Manager activities will include sales role plays with their SDR's, developing prospecting strategies, track daily team interaction activity, and creating prospecting templates and cold call talk tracks. Because most SDR's are new to sales careers, SDR Managers spend a lot of time motivating reps to continue to succeed despite the monotony and frequent failure that comes with being an SDR.
Like other managers, you'll have 1-1 with your direct reports to analyze their performance and conduct team meetings to build camaraderie amongst the team.
Ideally, the SDR Manager's SDR's will move up in the company into an Account Executive role within 12-24 months.
How much do SDR Managers earn?
The average SDR Manager salary is $88,095. The average total compensation package is $145,937. On top of the base salary, SDR Managers can expect to earn on average $48,422 if they hit quota. SDR Managers will also typically earn an additional $7,003 in annual stock bonuses and $395 in signing bonus. Note that within our data set, the median SDR manager had no signing or stock bonus. Signing and stock bonuses will vary by company.
The typical SDR Manager compensation structure is a 70/30 split for base/commission. For example, if an SDR Manager had a $130,000 OTE, 70% will consist of base salary ($90,000), and 30% will consist of variable compensation based on hitting quota ($40,000).
Broken down by account size, the average SDR Manager compensation package figures look like this:
SMB SDR Manager Compensation
Total Compensation Package: $128,055
Base Salary: $78,599
Commission at 100% of Quota: $39,252
Signing + Stock Bonus ($/yr): $10,204
Mid-Market SDR Manager Compensation
Total Compensation Package: $142,859
Base Salary: $86,073
Commission at 100% of Quota: $50,177
Signing + Stock Bonus ($/yr): $6,609
Enterprise SDR Manager Compensation
Total Compensation Package: $154,858
Base Salary: $96,858
Commission at 100% of Quota: $50,735
Signing + Stock Bonus ($/yr): $7,265
What are the best companies for SDR Managers?
Aspiring SDR Managers should seek out companies that are renowned for fair compensation, attainable quotas, and strong work life balance. Bravado's list of the best overall companies for tech sales is a good place to start your search.
Companies that have established SDR, entry level sales, or "sales academy" programs should also be on the top of the list of any aspiring SDR Manager as these companies will have a battle tested program with tried and true SDR practices and an opportunity as an SDR Manager to promote beyond just being a front line SDR Manager.
Some of the companies that fit this criteria include Salesforce, LinkedIn, and DocuSign. These companies all feature SDR Manager pay around or above the $145,000 average, strong work life balance and job satisfaction, and high quota attainments (i.e. you'll actually earn your OTE).

How do I become an SDR Manager?
SDR Managers typically require you to have 12 or more months previous SDR experience. Ideally, you'll also have 12 or more months experience in a closing sales role as an Account Executive or Account Manager. You can make yourself stand out by highlighting your past success in exceeding quota in your sales career. If you've had any previous SDR's get promoted into management or closing roles, you should highlight this as well.
What's next after SDR Manager?
SDR Managers can be promoted into a SDR Director, VP of Sales Development, or Head of Sales Development role. All of these roles will see you managing multiple SDR Managers and driving sales development and enablement strategy within the company. Compensation ranges for these roles can be well north of $200,000 depending on how many direct reports you have.
Other opportunities include returning to an individual contributor role as an account executive, account manager, customer success, or sales engineer.
---
View all Sales Compensation Data.
Please add your compensation (it's anonymous) to help make sales compensation more transparent and fair.