See which sales automation tools help sales teams drive the most revenue.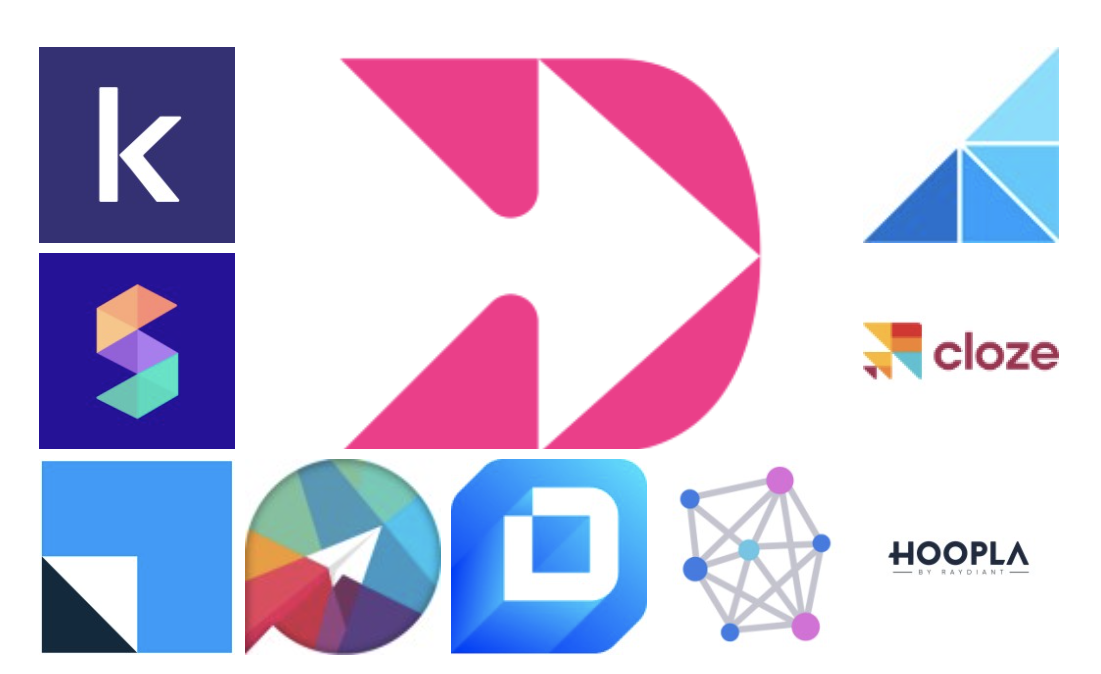 With tech companies reaching historic valuations in recent years, companies are in an absolute arms race to defeat their competition. Sales Enablement has quickly become one of the most important competitive advantages for sales teams, both big and small. Sales teams that have the best competitive intelligence, marketing materials, product training, sales training, and internal sales administration tools will almost certainly outperform their competition, even with an inferior product.
What is Sales Enablement?
Sales Enablement is the practice of providing the sales organization with the best tools, training, resources, and materials to improve and maximize their performance. Examples of sales enablement include automating CRM tasks, prospect contact intelligence, competitor intelligence, sales pitch analytics, and more.
Why is Sales Automation so important?
Sales Reps are the lifeblood of any company. If Sales is not bringing in revenue, the company will not survive. Thus, equipping your sales team with the best possible tools will result in more revenue, and in turn, more growth for the company.
G2 recently published some statistics which highlight the importance of sales enablement.
Organizations with sales enablement processes are roughly 20% more likely to win a deal compared to those without
76% of companies experience a significant increase in sales (6-20%) once a proper sales enablement strategy is implemented.
Your competitors are adopting Sales Enablement, as Sales Enablement tools and processes have experienced a 343% increase in adoption over the last 5 years.
The race to have the best equipped sales team is already underway. The question is which of the several sales enablement tools available are the most helpful for your sales team.
Here are the Top 10 Sales Enablement Tools in 2022
1. Dooly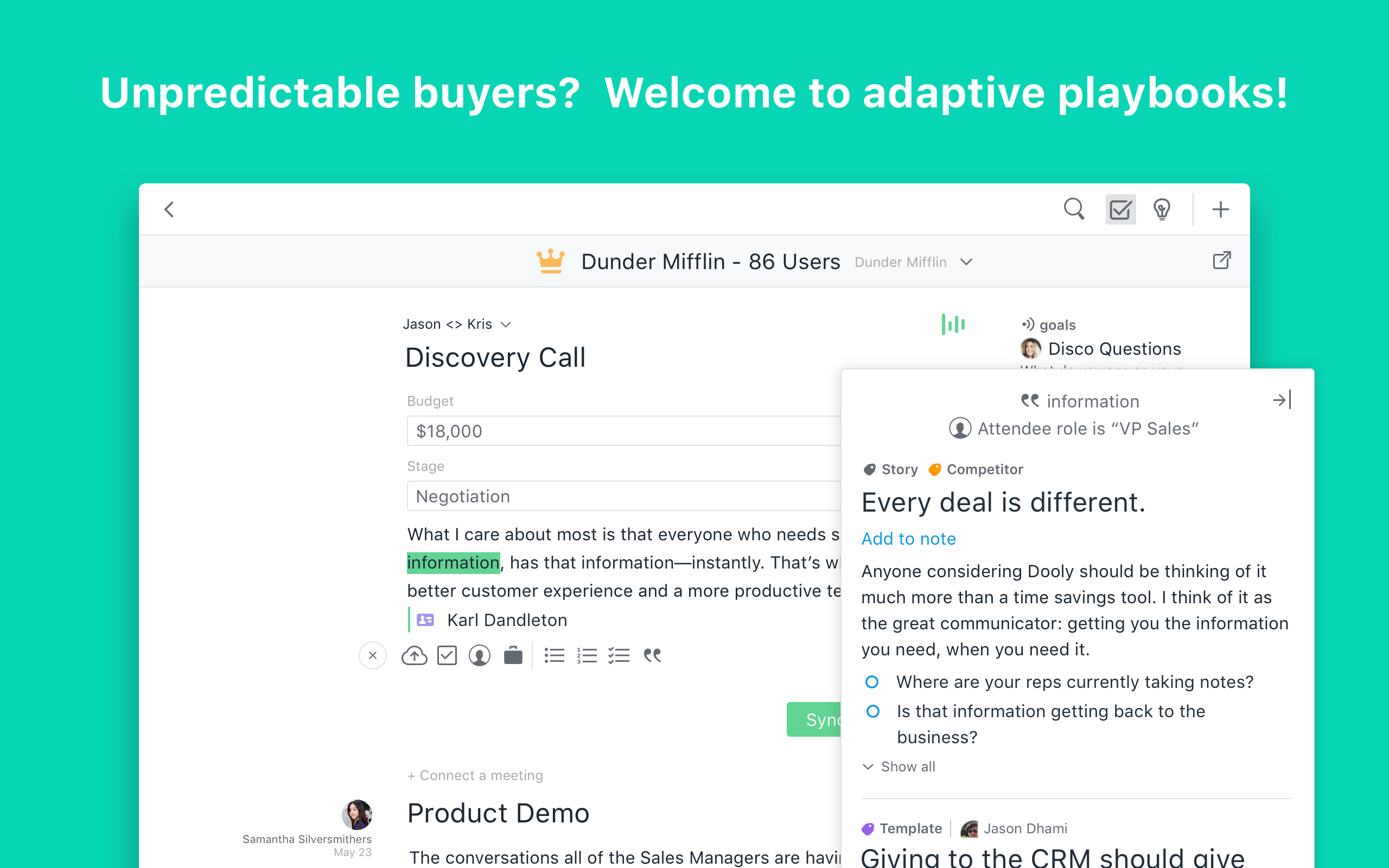 87% of sellers forget what they were trained on within just one month. So as you could imagine, life as an enablement professional can be a bit difficult. From implementing a sales methodology, to product training, to the roll out of new pricing – the success of the sales team is in their hands. Because even if they can drive just a small increase in win rate or quota attainment, that could be the difference between a sales org hitting their number or not.
That's where Dooly comes in. Dooly helps enablement professionals set their team up for success by standardizing the way their salespeople work and arming them with what they need so they can maximize their productivity and focus on closing deals. So no matter if it's a new rep on ramp or a veteran that needs to sharpen their tools, Dooly has their back.
Dooly has three main features that enable sellers.
First, their automated data entry allows sellers to spend time actually selling. Dooly saves sellers 5+ hours of gruntwork with 1-click pipeline updates and notes that automatically sync to Salesforce.
Next, Dooly's automated Data Capture helps reps collect all required Salesforce fields with pre-built templates for MEDDIC, Command of the Message, and more, so they can keep deals moving.
Lastly, their real-time enablement ensures reps are always prepared. Dooly surfaces talking points, content, and battle cards live on calls so you can help them hit quota.
Learn more: www.dooly.ai
2. Klue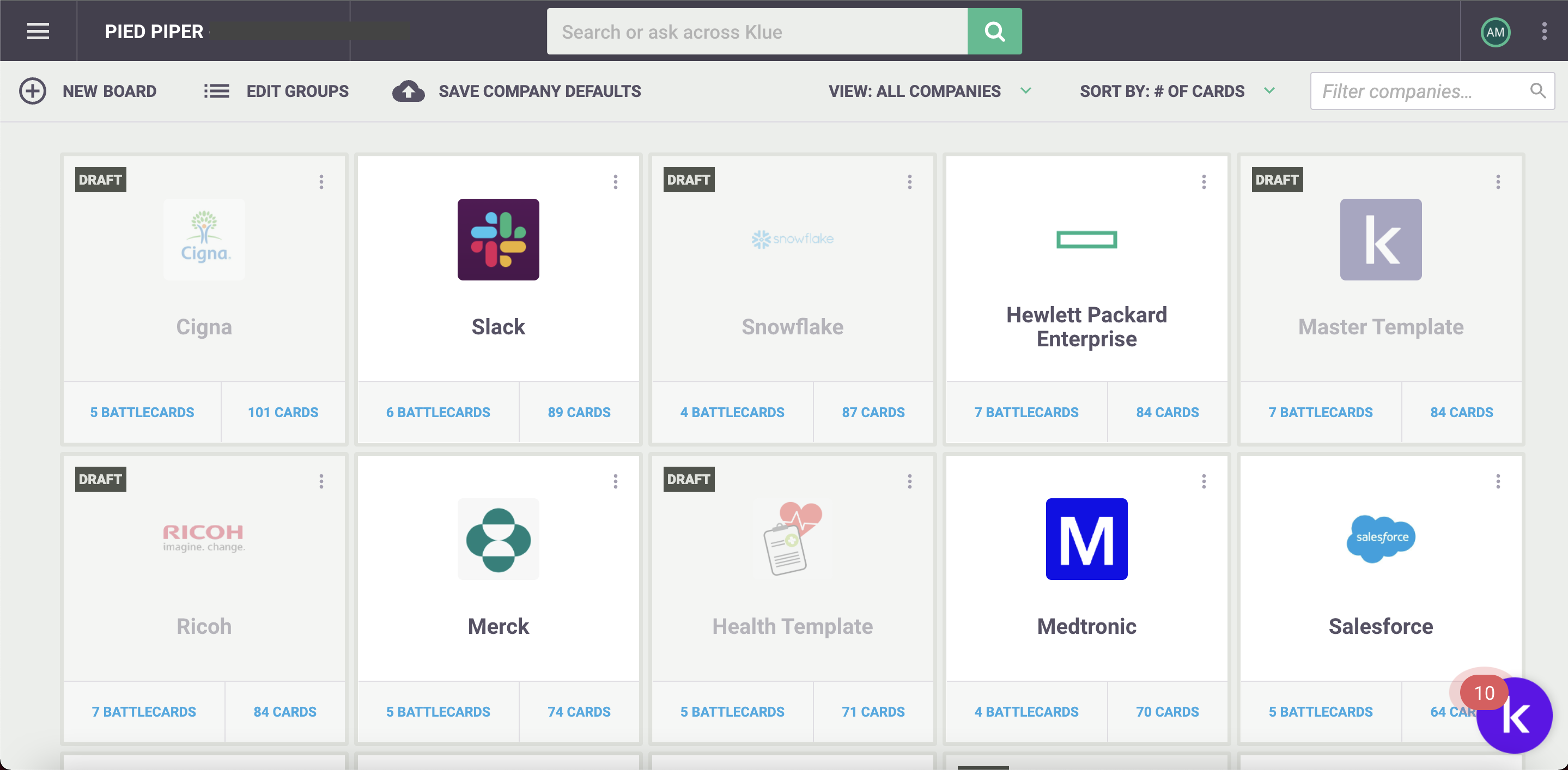 Businesses are bombarded with more data and confronted with more competitors than ever. Luckily for sales and marketing teams, there is Klue.
On the heels of a $62M Series B round led by Tiger Global and including Salesforce Ventures, Klue is a sales and competitive enablement tool built for sales leaders, product marketers and competitive intelligence professionals.
Klue's platform automatically collects publicly available external data and combines it with internal data (Slack, Teams, email) to paint a comprehensive picture of their customers' competitive landscape. The data can then be curated and turned into powerful insights that enable sales and marketing professionals to win more deals against the competition.
Klue helps businesses turn noise into insights, and insights into more wins for your sales team. If you're struggling with keeping up with your competition and seeing where you stand out, do not overlook Klue.
Learn more: www.klue.com
3. LeadSquared
Companies that are struggling to understand their prospects, build lasting relationships, and increase their ROI should consider LeadSquared. LeadSquared, a very robust tool, has multiple use cases that will lead to increased revenue.
Firstly, the company's marketing platform allows marketing teams to better capture and engage with leads. The marketing piece also allows for stronger workflow automation. The platform also produces detailed marketing reports that will allow for deep insights. All of these facets will bolster revenue for the company.
Sales teams will benefit from the company's execution focused CRM. The execution focus will allow reps to focus on just the next task which will result in an increase in sales velocity, productivity, and closed-won events.
Field Sellers will also appreciate the automation that comes with the Field Force Automation Software. The software will automate the field team's daily tasks, such as planning their day, leads in the territory, automate their field check ins, and much more.
LeadSquared has one goal in mind – increase revenue. It's a full scope sales and marketing enablement platform with tons of different use cases which will make it easy to deliver an ROI to the business.
Learn more: www.leadsquared.com
4. Spiff
Many sales teams struggle with nailing their commission plans, sometimes leaving both the reps and the business unhappy. Reps also might spend too much time trying to understand their commission plan, calculating potential commissions, and tracking incoming payments for the month and even the year.
Spiff mitigates all of these issues with their leading commission management platform that inspires transparency and usability for reps, management, and ops.
Spiff allows management to easily and quickly design commission plans that motivate reps and can be scaled out to the full team, regardless of how complex your plans and goals might be.
Spiff's commission management platform also motivates reps by showing potential commissions on deals, real-time visibility on current commissions, and the ability to comment, dispute, and collaborate on past commissions with sales ops all in one interface.
Sales Management and Operations will appreciate the audit trail, approval workflows, currency conversion, and advanced team management capabilities. They'll also appreciate the ability to easily model future commission plans to both grow the business while still keeping reps happy.
Ultimately, this tool enables sales reps to spend more time selling because they won't be trying to decode their commission plans. At the same time, management and sales operations get better visibility into what it will take to scale the sales team and make salespeople want to stay at the company.
Learn more: www.spiff.com
5. Paperflite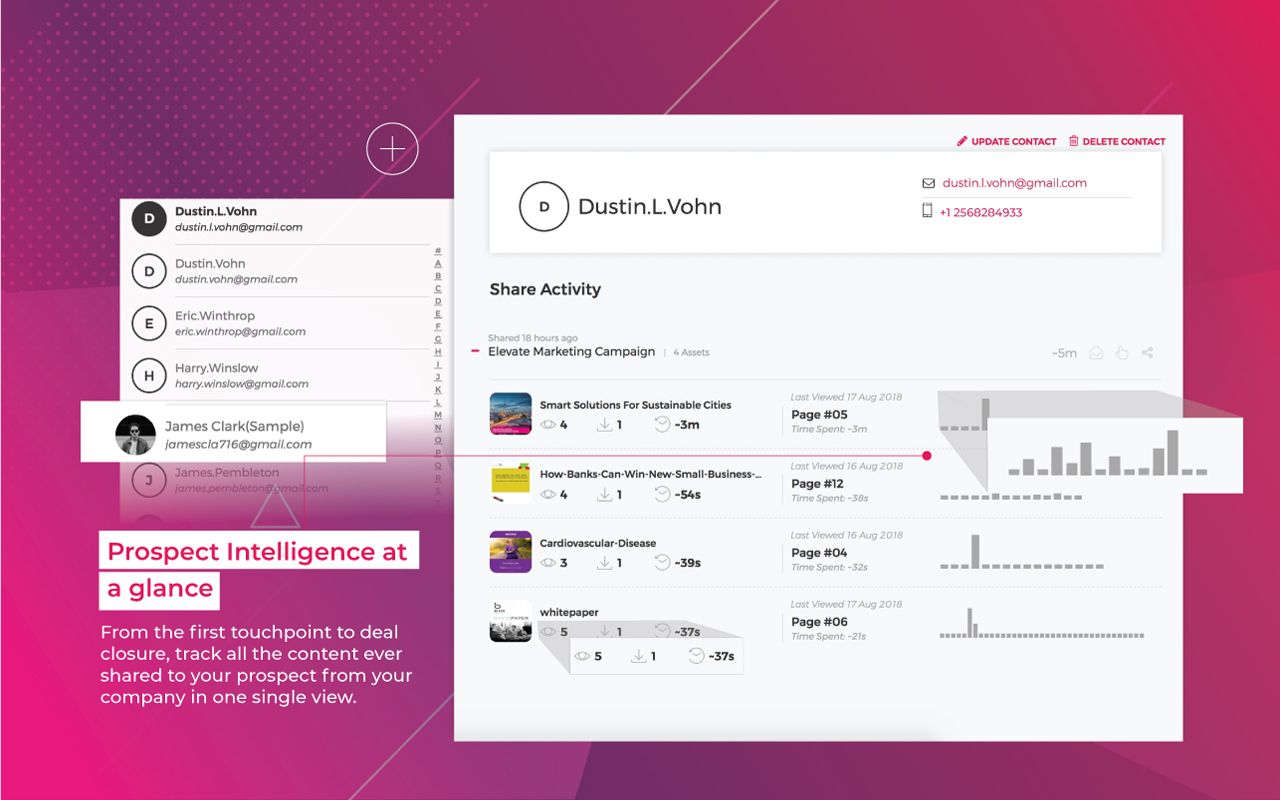 Paperflite is one of the top sales and marketing content collaboration tools that companies can leverage today.
Many sales and marketing teams often suffer from misalignment. However, Paperflite minimizes that risk with its dynamic content collaboration platform. Paperflite consolidates your sales collateral, playbooks, win-stories, content, product info, etc. into one user friendly interface. Even better, the platform uses its SmartSearch algorithm powered by AI and ML to suggest the perfect content based off the reps intent and previous searches.
Paperflite also allows reps to create user friendly microsites with their marketing content (ie whitepapers, win stories, etc.). This eliminates the need to send emails with multiple attachments and creates a personalized and unique experience for the prospect.
Another advantage of Paperflite is that it integrates with CRMs, social platforms, and everything else in your marketing and tech stack making content sharing easy.
Lastly, reps and marketing can track in what ways and how often prospects are interacting with their content. This will help sellers and markets understand what prospects truly care about and ultimately lead to a higher ROI. Marketing teams can also track how internal teams are using the tool which will further bolster the ROI.
Learn more at: www.paperflite.com
6. Datanyze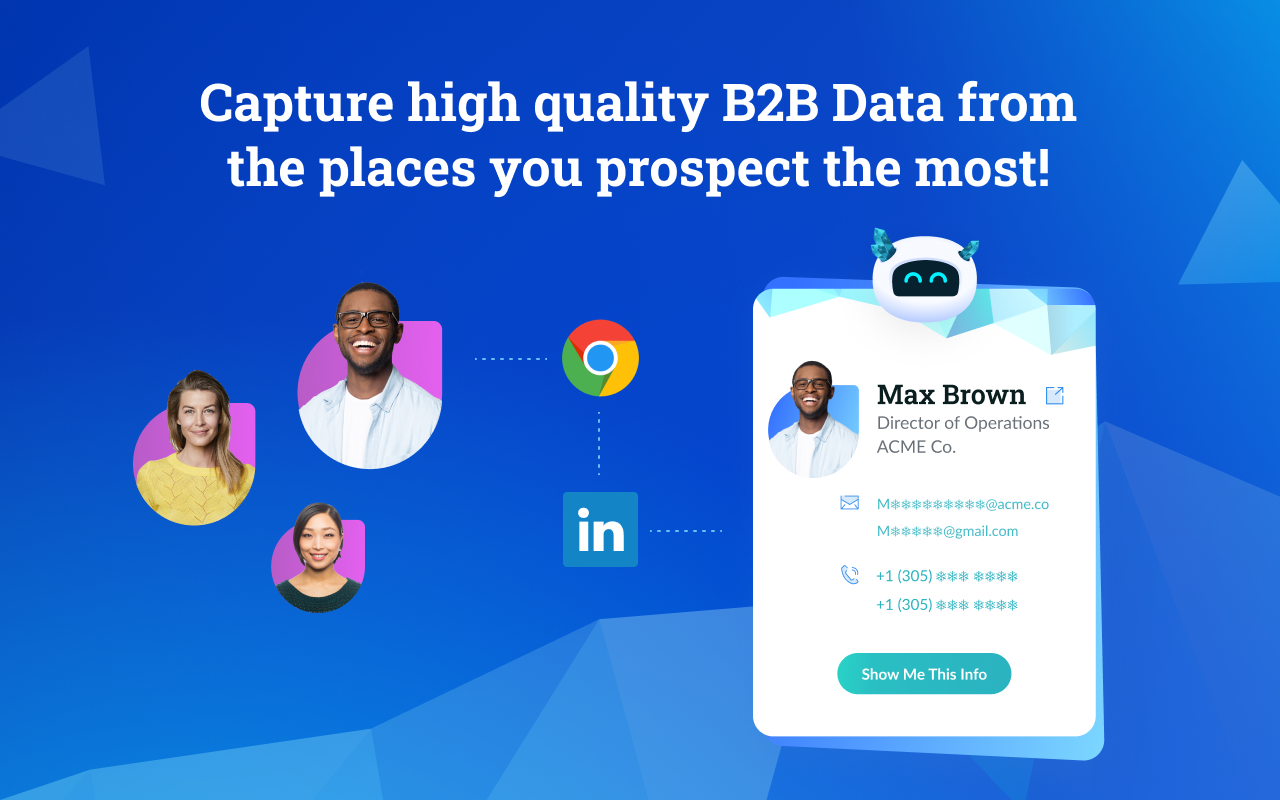 Datanyze, sixth on our list, is a quickly growing B2B contact intelligence tool.
Sales reps often spend way too much time searching for contact information on their top prospects. Common issues reps face is inaccurate information, multiple steps needed to locate the prospect and then their contact information, and affordability of B2B contact intelligence tools.
Datanyze, available as a Chrome extension, solves these common issues. The tool is extremely convenient as its located right in your browser – you don't need to flip flop between tabs, spreadsheets, and documents to locate contact information. It's natively integrated with LinkedIn so that you can browse LinkedIn and their contact info will pop up right on your screen.
Another major advantage of Datanyze is its ability to provide contact information at scale – users can 'search all employees' for a company on LinkedIn and Datanyze will provide all of that information simultaneously.
Datanyze also is an extremely affordable B2B contact intelligence tool compared to its competitors.
If you're looking for a contact intelligence tool that allows your reps to spend more time prospecting and less time manually searching contact info, Datanyze will be a major help.
Learn more: https://www.datanyze.com
7. Spekit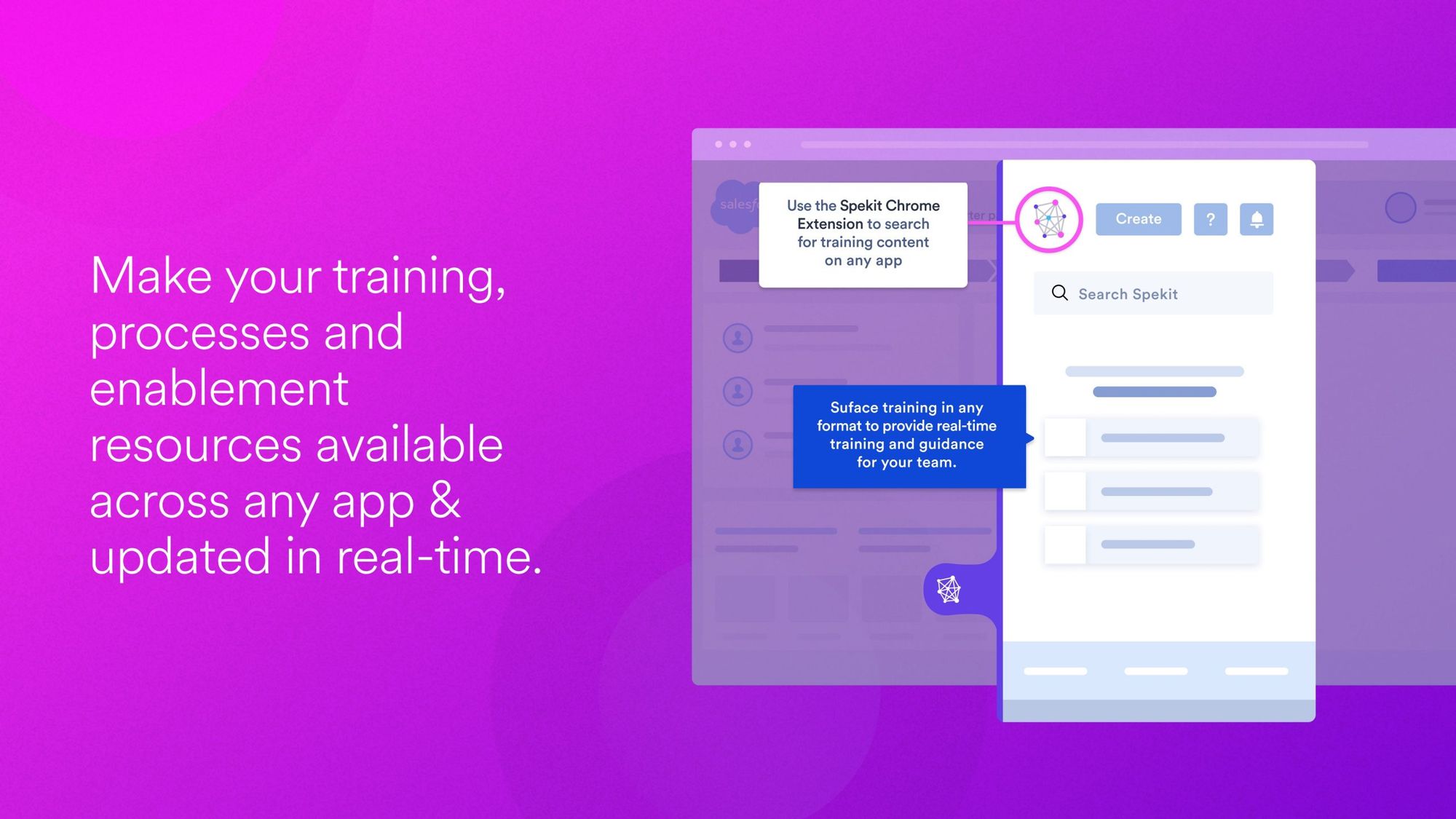 Spekit, fresh off a $45M Series B, is one of the quickest growing sales enablement tools with a wide variety of use cases. The main issue it solves is employee ramp time, tool adoption and knowledge sharing.
Too many sales reps spend too much time ramping up because they cannot figure out how a new tool works. Sales teams often have 10-20 different tools they work with, and for news reps this can be extremely daunting. They have to ping management, other reps, IT, or search for answers online on how to use certain tools. Spekit solves these problems by embedding real-time knowledge, notes, and training within the applications themselves.
The tool can also be leveraged by sales team through its ability to embed sales plays, battle cards, win stories, objection information, and more into any application.
Another use case is embedding best practices for opportunities in your CRM. For example, you can integrate Spekit into Salesforce and reinforce your sales methodology (ie MEDDPICC) into the opportunity note fields.  Management can also embed personas, messaging, account info, and more into LinkedIn, for example, to better customer engagement.
Spekit has a wide variety of use cases and should not be overlooked by reps, management, and ops in 2022.
Learn more: www.spekit.com
8. WorkRamp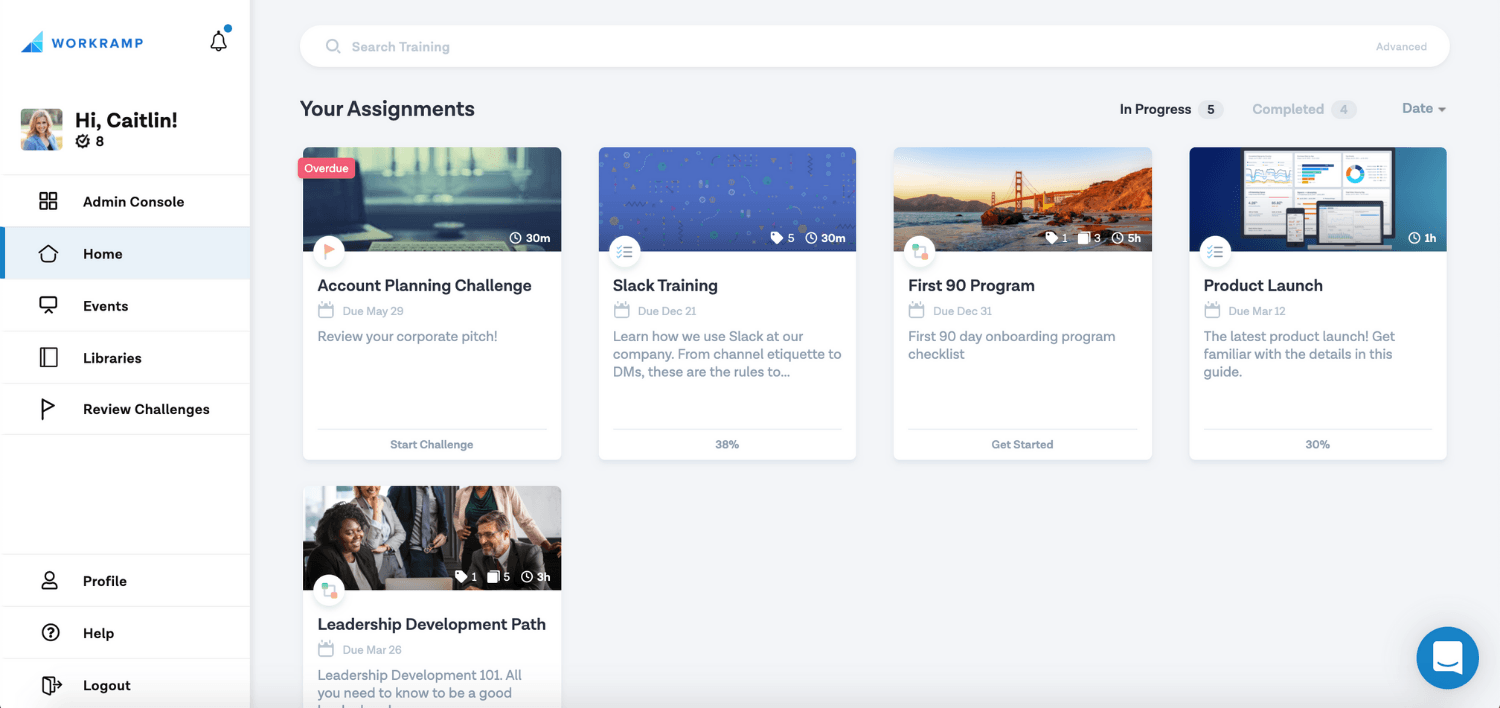 WorkRamp aims to turn learning into revenue with its all-in-one learning platform.
Sales teams often have issues ramping up quickly, learning the appropriate sales plays, and learning the appropriate skills when joining a new company. WorkRamp simplifies all of these issues and turns them into opportunities to drive more revenue.
Firslty, management can easily create Demo certification paths for new reps so that management can easily track who is ready to start pitching demos.
Next, reps can be put through onboarding bootcamps that management creates (ie product knowledge, skills training) to ensure they are fluent in the product before talking to prospects. Reps will ramp faster and hit quotas sooner with a streamlined process like this.
Lastly, management can build a 'sales academy' in which all of your sales training content lives. Reps can leverage self paced product demo trainings, prospecting trainings, and more all from the user friendly 'resource center'.
Management looking to onboard, ramp, and up-skill reps will absolutely reap the benefits of an LMS like WorkRamp.
Learn more: www.workramp.com
9. Hoopla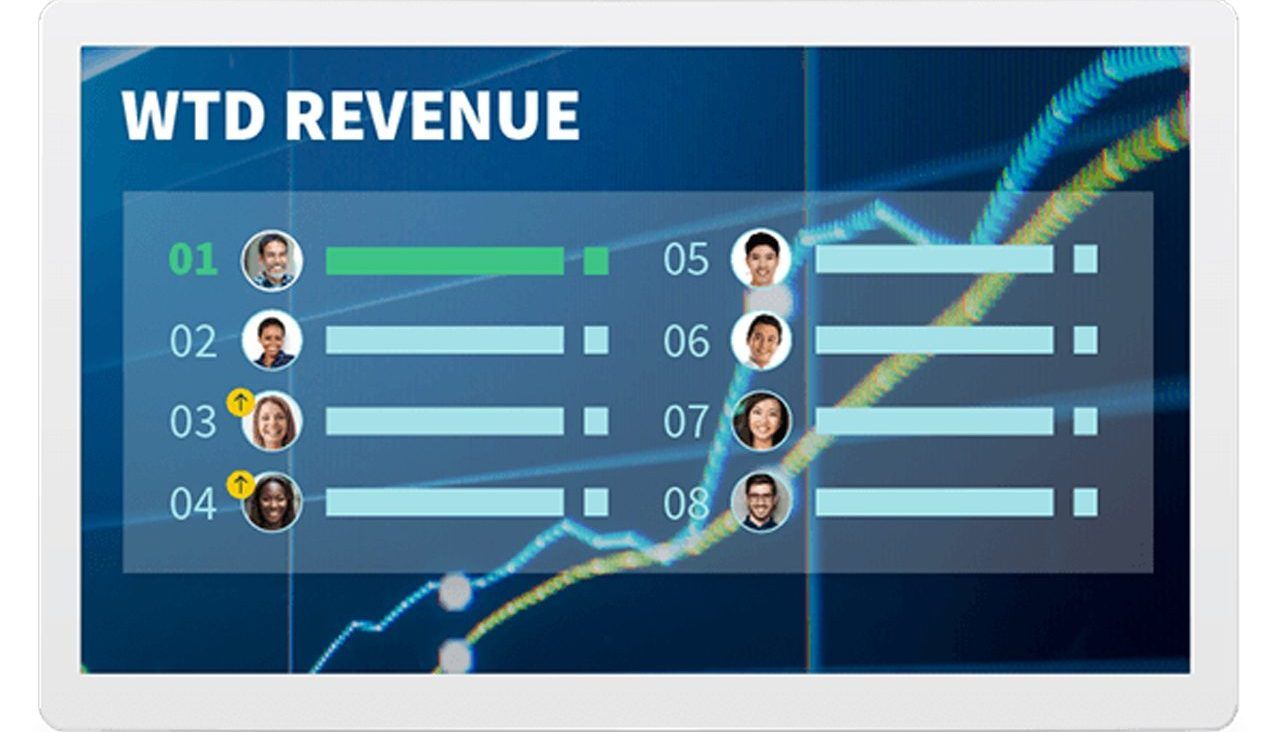 Sales reps often feel under appreciated, overlooked, and at worst, unmotivated. Hoopla aims to solve these common problems with its sales performance management platform. The tool gives sales managers an intuitive, fun, and engaging platform to run sales leaderboards.
Hoopla gives reps and management an easy place to view their team's goals, whether those be daily, weekly, monthly, quarterly, or annually. Hoopla's leaderboards clearly show the required goal for each rep, and it shows how far above or behind the rep is to that goal. Reps can use this as motivation to achieve on those targets.
Because the leaderboard is viewable by both management and other reps, the culture will naturally flow to a cohesive unit. Knowing where fellow reps are on the leaderboard will entice reps to push themselves ahead of their friends on the team.
Most importantly, the top reps will be recognized and rewarded. Reps will receive congratulations for hitting a goal and this can also lead to rewards. The platform integrates the ability to visualize available rewards for hitting targets.
Ultimately, management and reps alike will use this gamified leaderboard to blow out their goals, boost morale, and work as a cohesive yet competitive unit.
Learn more: www.hoopla.net
10. Cloze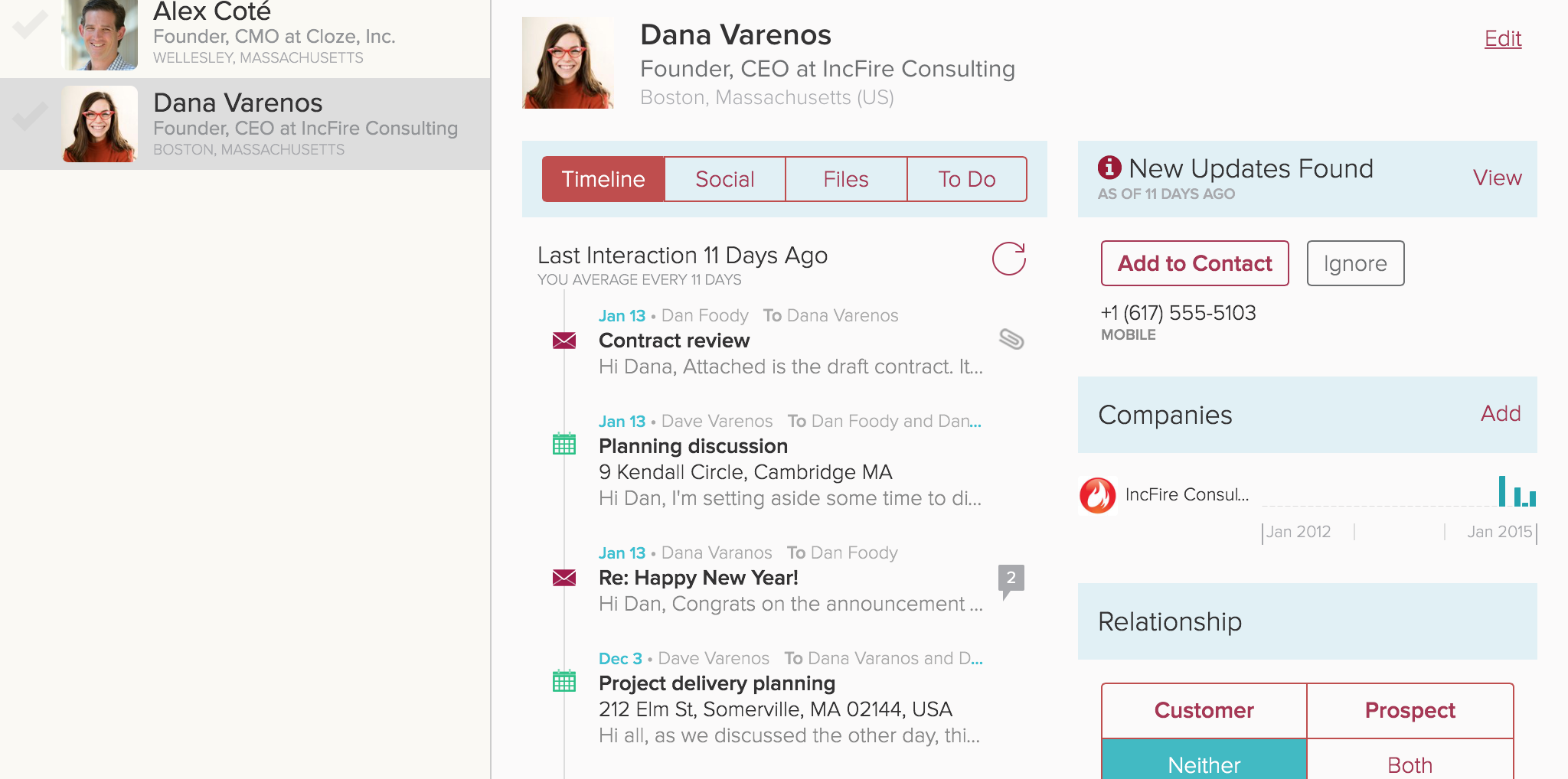 Many salespeople struggle to keep all of their interactions, notes, and reminders for their prospects in order. And often times this is not the fault of the rep, but rather just due to the sheer volume of work that goes into trying to close a deal. Luckily, Cloze can be a solution for those suffering from managing their history with their customers.
Cloze, which deems itself as a personal assistant for a rep's professional relationships, offers many powerful features that help reps close more deals.
Firstly, on an individual contact level, it manages your complete history with each contact, including interactions on social media, emails, exchanged documents, email signatures, notes, and more. Cloze keeps this organized automatically in a user-friendly format so reps do not waste busy time organizing these pieces.
Cloze takes this contact management one step further by analyzing which contacts are the most important to the salesperson and strategically remind you to reengage them to keep the relationship strong.
Lastly, Cloze understands you won't just be interacting with one individual at a company. It organizes all of your history not only by contact but also by company. Thus, if your reps cover hundreds of accounts and interact with multiple stakeholders at these companies, Cloze makes it very hard for salespeople to have an excuse to not be organized.
---
Bravado provides Tech Sales compensation data, free. View our Sales Compensation Data.
Please add your compensation (it's anonymous) to help make sales compensation more transparent and fair.