See which sales automation tools help sales teams drive the most revenue.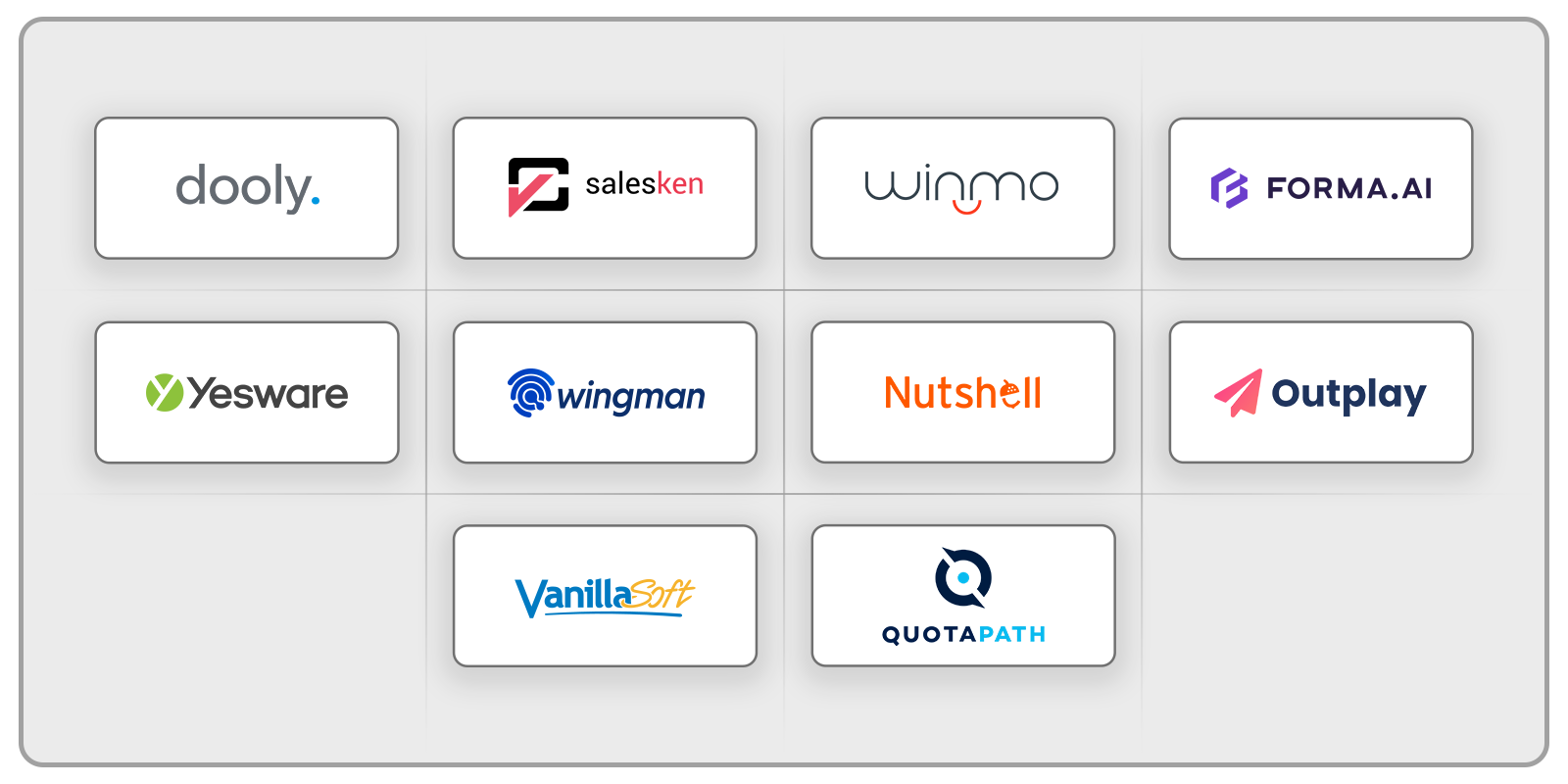 Sales Automation is more important than ever in 2021. Why? Automating your sales processes can help you save money and time, and even drive more revenue. The less time your sales reps spend on administrative tasks, the more time and energy they have to chase and close deals. Additionally, it can help streamline and bring uniformity to your sales process. Lastly, having a modern set of sales automation tools can help you attract and retain top sales talent as your reps will be happy to not have to pull their hair out working with outdated tools and manual processes.
What is Sales Automation?
Sales Automation is the process of automating manual tasks sales reps perform related to selling. Some examples of sales automation include: automated call note-taking, automated CRM updates, automated prospect list building, automated email outreach, and automated live sales call coaching.
Why is Sales Automation so important?
Sales Reps are hired to bring in revenue to the company. However, Xant.ai reports that just about 35% of a sales rep's time is actually spent selling and 15% of a sales rep's time is spent on administrative tasks.
Instapage's statistics make a compelling case as to why scale up your sales organization's automation processes:
Sales Force Automation can lead to a 30% increase in deal closures, an 18% reduction in sales cycle, and a 14% reduction in sales administration time.
Brands have seen a 225% increase in the volume of prospects that converted to sales opportunities with lead nurturing sales automation.
Automation is proven to boost sales productivity by 14.5%.
Now that it's clear why sales organizations should be automating many of their sales processes, let's take a look at the best tools for this initiative.
Here are the Top 10 Sales Automation Tools in 2021
1. Dooly

Dooly, our number one overall sales automation tool in 2021, gets revenue teams working together more efficiently by eliminating the Salesforce busywork that reps hate but leadership needs. This is an excellent tool to help your sales reps save time on administrative tasks so they can focus on closing deals.
Dooly adds value in three main areas. First, you can take your meeting notes in Dooly, and these will be automatically pushed back to the appropriate fields, tasks, opportunities, and activities in Salesforce. Next, you can quickly update your Salesforce deals thanks to in-line, one-click editing. Lastly, Dooly uses their AI and Natural Language processing engines to provide sales reps with live sales coaching via battlecards, notes, and talking points on live sales calls.
Having recently raised $80 million, Dooly clearly has big plans for the future R&D that will be invested in supporting and improving the functionality of this tool and any future developments.
Learn more: www.dooly.ai
2. QuotaPath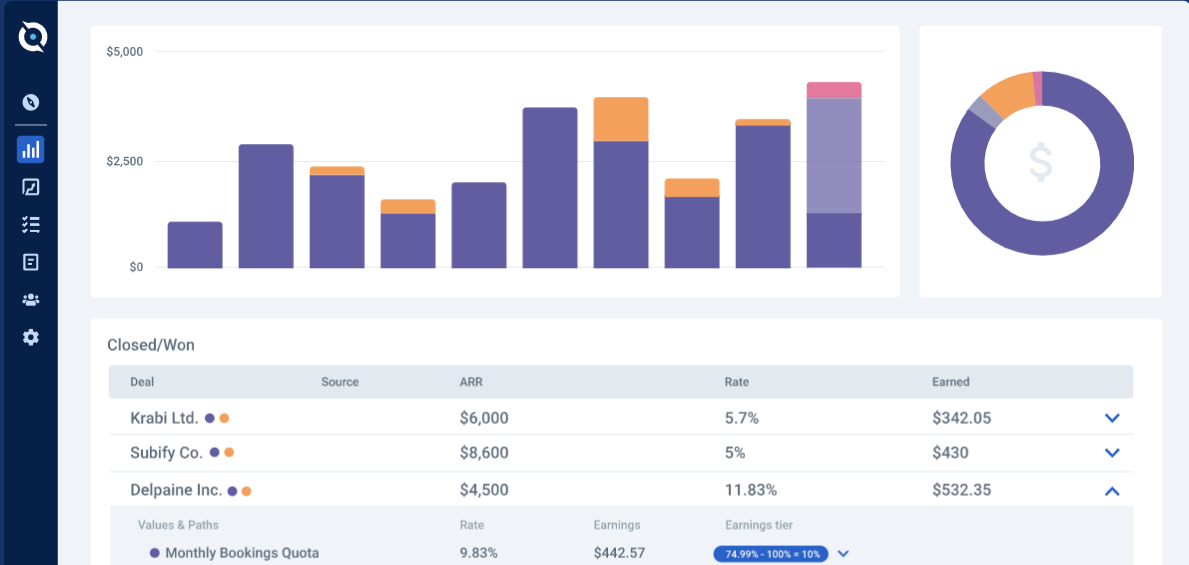 QuotaPath, fresh off a $20M+ round, is a commission tracking tool built by salespeople for salespeople. QuotaPath is automating commissions and increasing understanding of complex comp plans to fuel a more efficient and accurate sales process for teams. With real-time data syncs and personalized dashboards, reps and leaders gain a deeper understanding of their earnings and quota attainment. Forecasting makes it easy to see potential earnings from pipeline deals so reps know where to focus efforts.
Unlike enterprise and other solutions on the market, getting started with QuotaPath takes minutes, not months, and requires no complicated formulas or implementation costs. We connect to the tools you already use and our free CRM integration creates a single source of truth for deal data. Eliminating manual dual entry means less confusion, and more time setting demos and closing deals.
From sales reps to operations to finance, QuotaPath empowers and aligns organizations so they can measure performance, deliver results, and drive consistent revenue. Save time, increase transparency, eliminate errors, and achieve success with QuotaPath.
Learn more: www.quotapath.com
3. Nutshell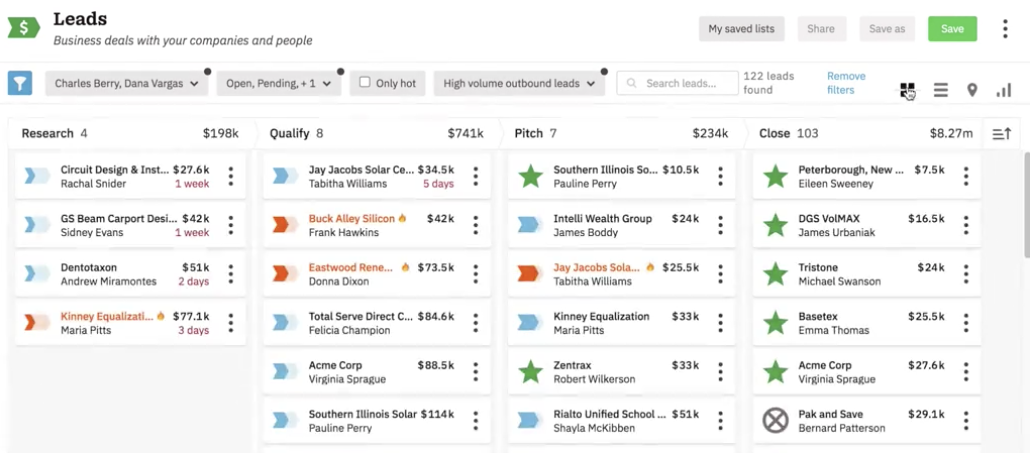 If you're an executive who feels like your Sales and Marketing teams aren't perfectly aligned on strategy, consider taking a look at Nutshell CRM. Nutshell, one of the easiest to use CRM's out there, is an all-in-one growth platform for Sales and Marketing.
Nutshell's marketing platform integrates with seamlessly with the CRM, so marketing has a direct line of sight into what campaigns, audiences, and messaging is working for sales. On the flip side, because the marketing is more effective, the leads funneled into the sales team are much stronger and conversion rates skyrocket. Management no longer has to worry about siloed data or data discrepancies; Nutshell serves as your single source of truth.
Additionally, because of Nutshell's ease of use, sales reps minimize the time spent tinkering with their CRM, leading to more time and energy spent on bringing in revenue for your company.
Nutshell is more than just an integrated CRM, it offers a full suite of tools including automated pipeline management, automated email prospecting, automated contact management, management friendly reporting, and more.
Learn more: www.nutshell.com
4. Forma.ai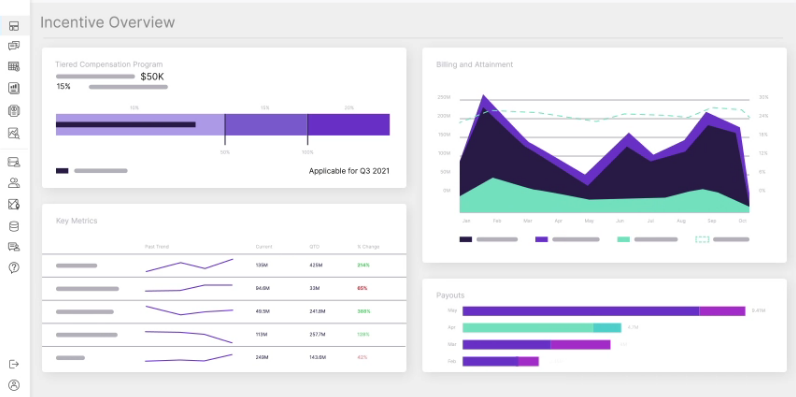 In the words of one of their customers, Forma.ai is "like no one else" in sales compensation automation.
The platform Forma.ai has built is a completely new way to manage sales compensation. It's a hybrid of AI and human controls that they're calling "Sales Compensation as a Service (SCaaS)."
Most sales compensation admins and analysts are bogged down in the day-to-day admin, constantly under pressure just to make payroll calculation on time. The bottleneck that this manual admin causes creates errors and miscalculations that have a wide impact on the success of the business.
Unlike the existing legacy ICM software available, Forma.ai is 100% coding free. They work with your team throughout to ensure that the data in the system is always accurate, allowing them to automate more than 90% of the manual labor associated with sales compensation admin.
Their unique fusion of automation and operational expertise means Forma.ai can deliver the agility, flexibility, and accuracy that every large organization needs to compete in an unpredictable world. Forma.ai processes more than $1.5 billion in commissions annually for leading enterprises like Autodesk, OpenTable, and Stryker, who call it, "everything you ever wanted from your incentive compensation software, and then some."
Forma has plenty of capital to invest in the future of this tool, as they recently secured $10M.
Learn more: www.forma.ai
5. Outplay

Outplay, our number four overall Sales Automation tool, is a Sales Enablement platform built for rapidly scaling teams that need a little more than just smile and dial.
Outplay brings predictability to the outbound sales process, and helps sales reps deliver the perfect message to the right prospect at the right time in the buying journey through the right channel.
The platform helps outbound sales teams plan, execute, track, measure and optimize interactions between companies and prospects across multiple channels like email, phone, SMS, social media as well as live chat.
Outplay ultimately provides sales organizations an incredible opportunity to streamline and unify their sales process while increasing conversions.
Learn more: www.outplayhq.com
6. Salesken.ai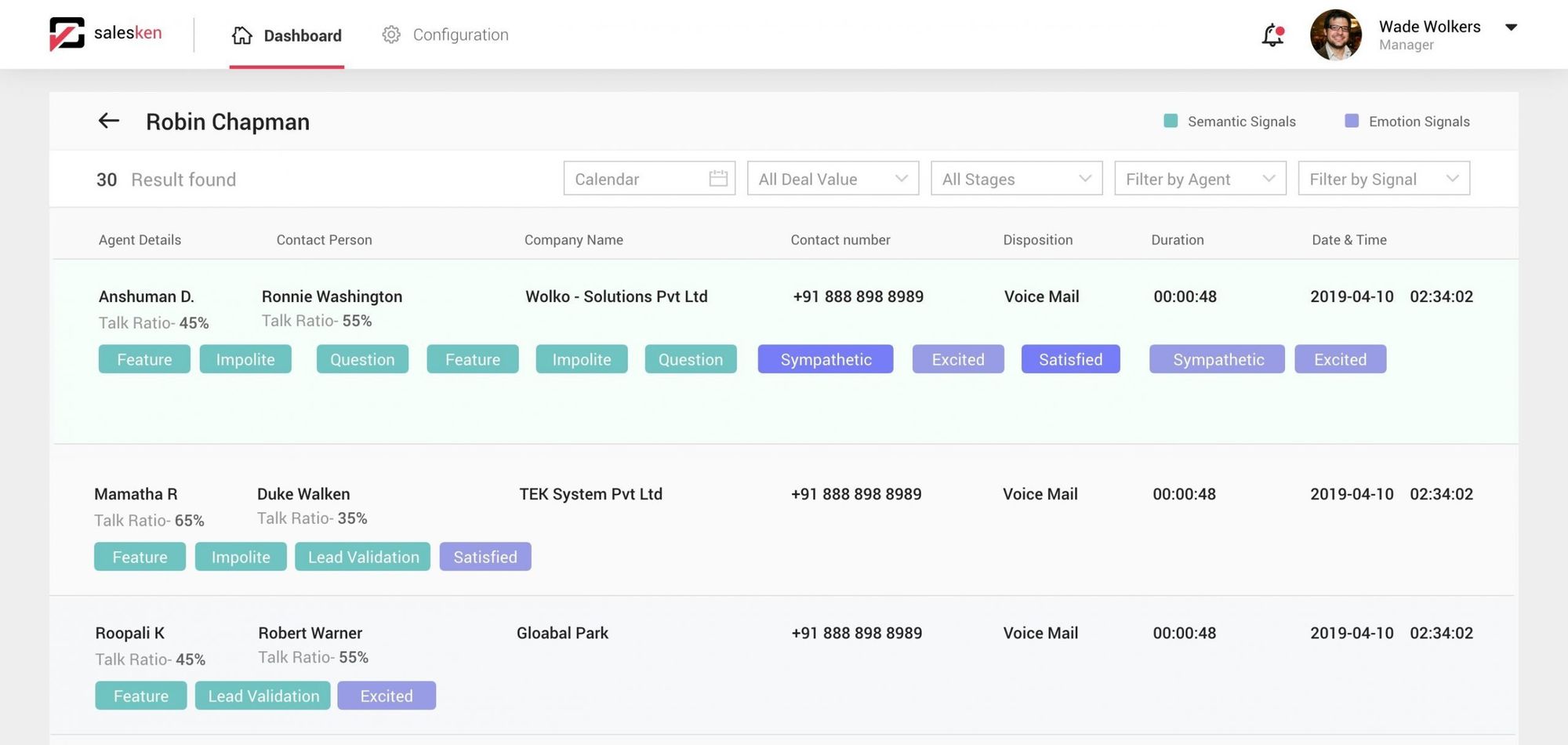 Salesken is a conversational intelligence platform that helps sales teams, improve performance, and reduce acquisition costs. The platform gives managers and sales reps visibility into every call, via detailed Call Analytics including emotions, objections, intent, and more. The tool also gives sales reps real-time cues during their conversation to help them engage their customers better.
This tool can be best leveraged by sales teams with new reps, struggling reps, or companies with complex and technical products.
Ultimately, if you're a sales manager looking to take a deep dive into the live analytics of your sales teams call performance and also looking to bolster your pipeline and deal flow, Salesken is worth a demo.
Learn more: www.salesken.ai
7. Wingman

Wingman, a Y Combinator backed startup, is one of the top live note-taking tools that combines real-time coaching for sales reps.
Wingman's value-add is threefold. First is sales coaching: Sales managers can train their teams at-scale by easily viewing a library of the rep's and team's' best calls, worst calls, and objection handling strategies. Next, Wingman simplifies and streamlines visibility into a rep's sales pipeline with easy-to-read timelines. Lastly, Wingman brings an element of sales enablement by allowing sales management to give sales reps live call cues, call moment bookmarking, and live call alerts.
Sales Management and Operations teams looking to expedite their sales teams to quota, consistently have reps exceed quota, and ultimately generate revenue will not go wrong exploring Wingman as an aid to their sales teams.
Learn more: www.trywingman.com
8. VanillaSoft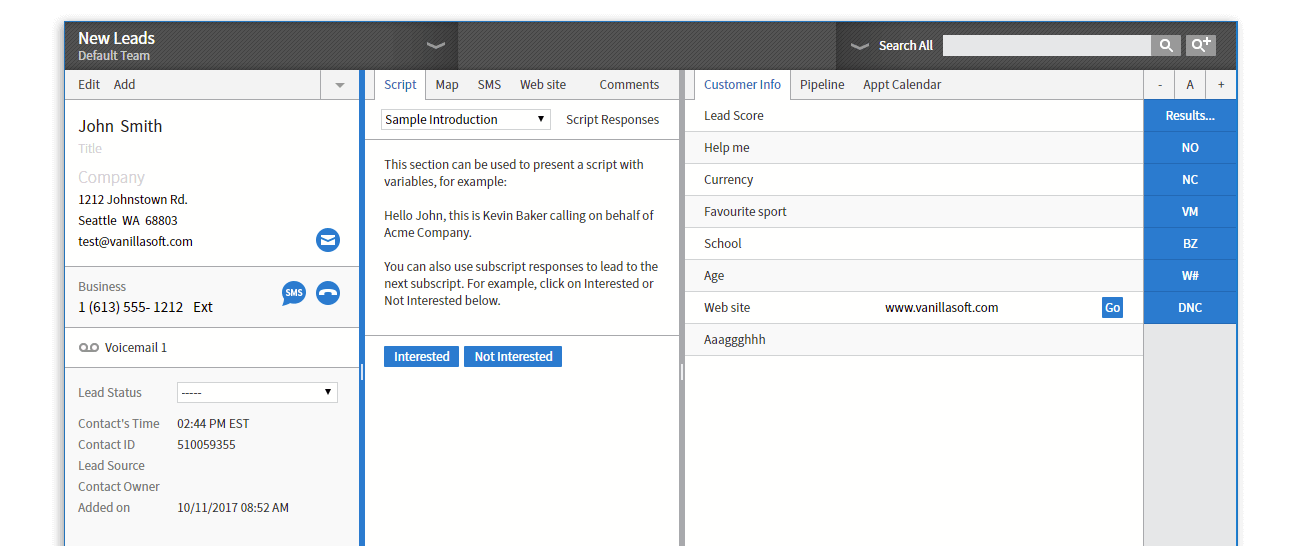 VanillaSoft, the sales engagement platform, is one of the most complete sales automation tools dedicated to helping sales teams build pipeline and drive revenue. Best known for its lead tracking capabilities, VanillaSoft offers a comprehensive sales automation suite, including scripting, automated lead routing, sales cadence management, lead and sales tracking, and integrated communication tools across email, phone, auto-dialing, SMS text, call recording, and group conferencing.
Some specific use cases include queue-based routing and prioritization (send the best leads to the best reps), automatic and progressive dialing (make sure reps are making their dials), email and SMS nurturing (guarantee the right email sequences are deployed),  and workflow & cadence automation (don't miss a step in the sales cycle).
VanillaSoft's queue-based sales platform for inside sales reps and sales development reps ultimately results in quicker lead response time, lead efficiency, and more revenue per salesperson.
Learn more: https://www.vanillasoft.com/
9. Yesware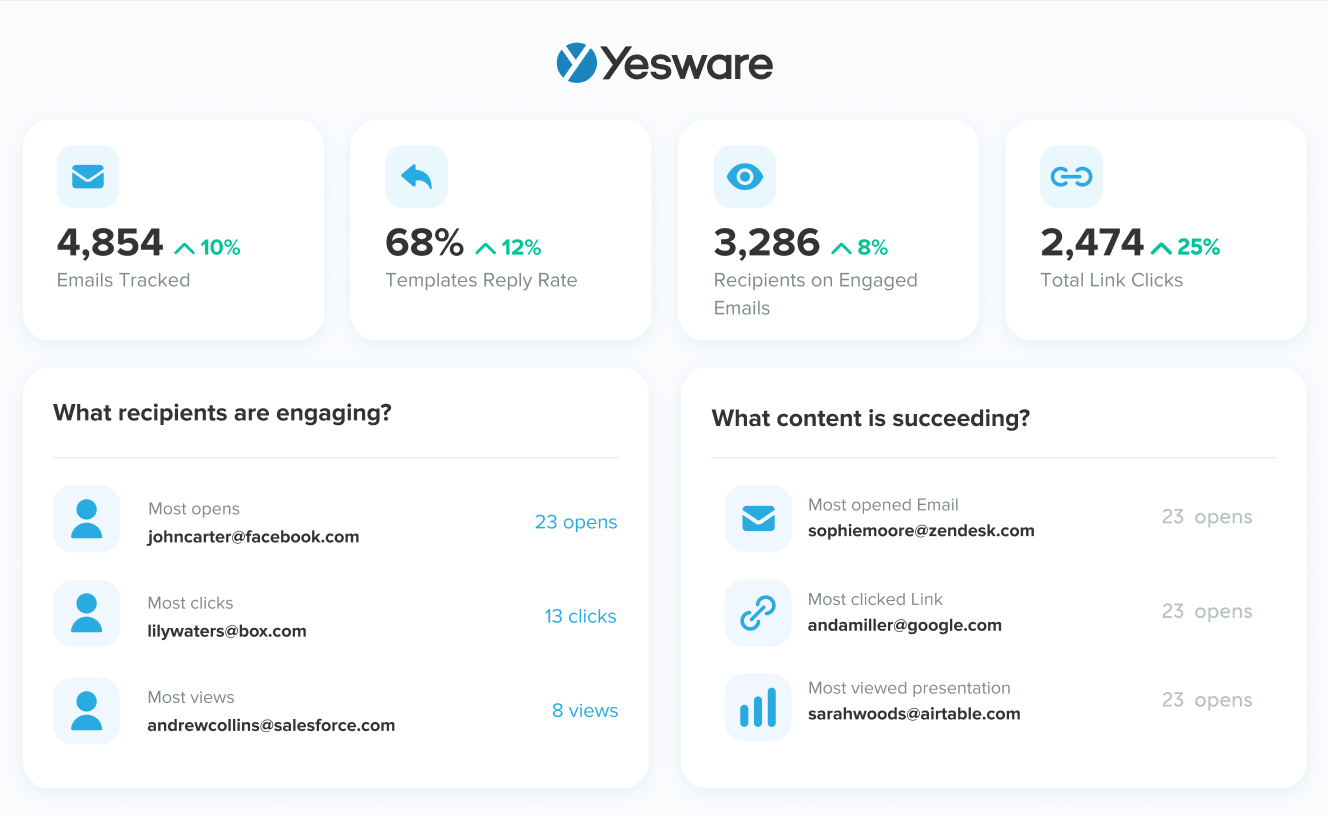 Yesware, one of the top sales automation tools specifically for email, simplifies a sales rep's initial outreach, follow ups, and meeting scheduling.
Sales reps and sales management can also easily track daily email prospecting activity and campaign engagement to understand what's working and what's not. Management can then leverage easily view and digest these analytics so they can quickly fine tune the sales strategy across the team.
Available as a Gmail and Outlook extension/add-on, Yesware is extremely simple to set up, requiring minimal technical expertise. The tool also seamlessly integrates with Salesforce and other platforms.
Yesware is ideal for sales teams looking to increase engagement for both new and existing reps, discover which campaigns drive the most revenue, and ensure that all of the necessary touches are going out to each prospect.
Learn more: https://www.yesware.com/
10. Winmo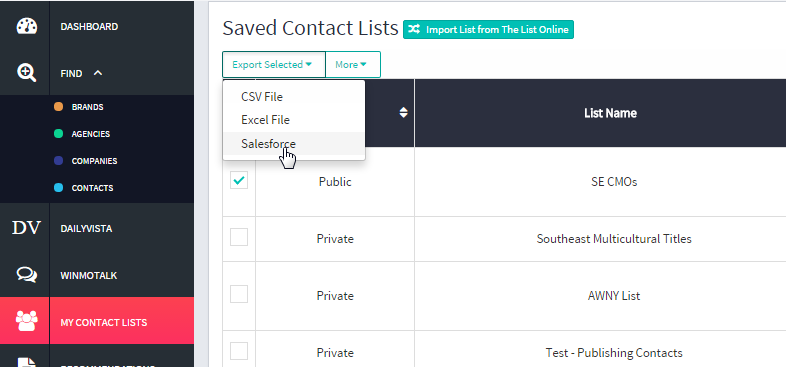 One of our favorite sales intelligence and prospecting automation tools, Winmo enables sales teams to drive more revenue with marketing departments, agencies, and brands.
The tool helps sales reps identify key decision makers, industry shifts and trends related to brand budgets and marketing department budgets, and changes (personnel, financial, strategy, etc.) to specific accounts.
Sales teams looking to build out targeted lists in new and existing territories, quickly see who controls budget within accounts, and win more deals from competitors thanks to insights into predicted strategic company decisions within your accounts up to 18 months in advance are the ideal candidates to leverage Winmo.
Learn more: www.winmo.com
---
Bravado provides Tech Sales compensation data, free. View our Sales Compensation Data.
Please add your compensation (it's anonymous) to help make sales compensation more transparent and fair.